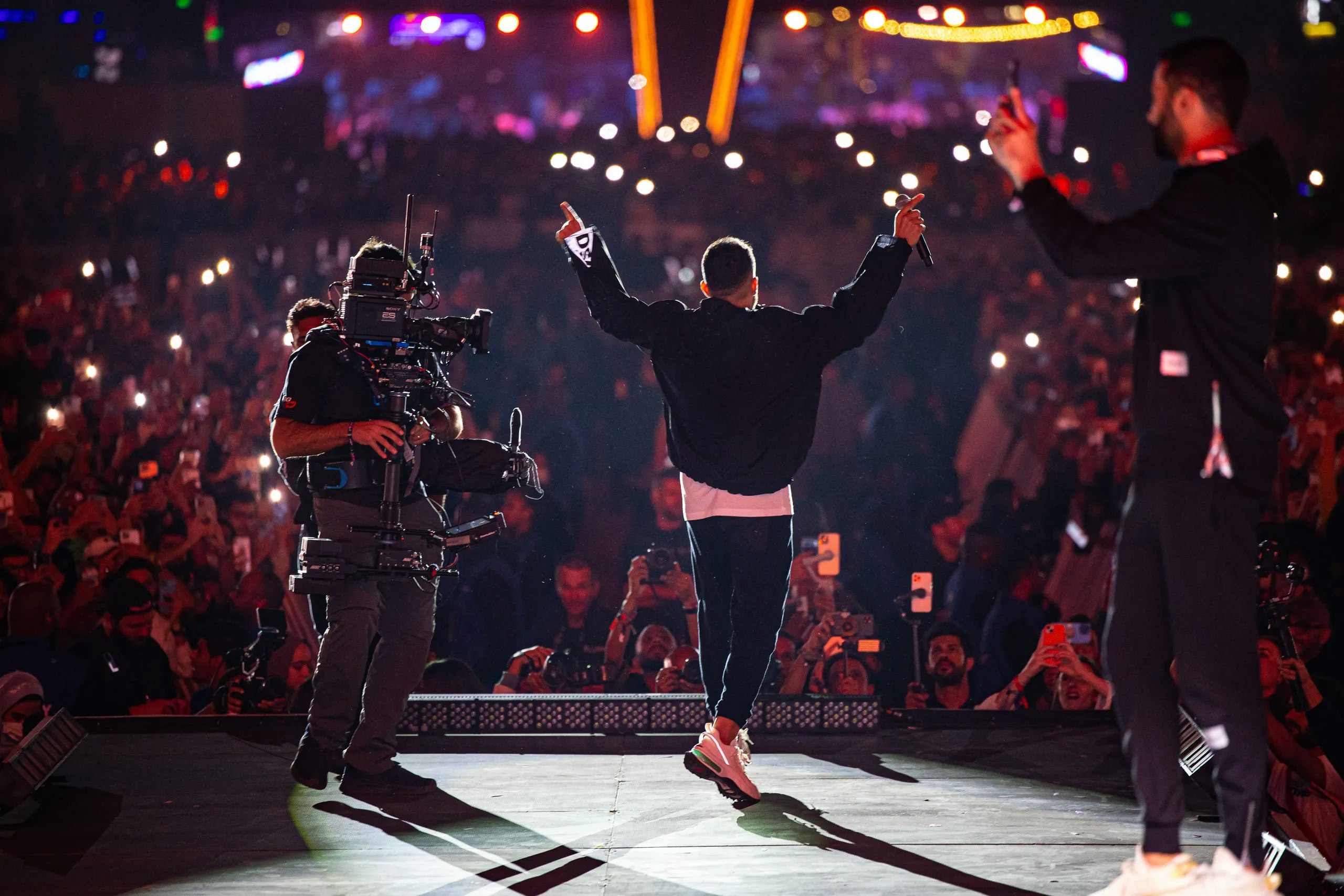 Top Five Arabic Musicians You Should Have on Your Radar
---
Top Five Arabic Musicians You Should Have on Your Radar
---
Arabic music has been captivating listeners for generations with its enchanting melodies, poetic charm, and a delightful array of genres that mirror the vibrant cultural quilt of the MENA region. While legendary artists like Amr Diab and Myriam Faris must be mentioned when discussing top performers in the region, a fresh wave of hip, underground musicians is steadily surfacing. Events like MDLBEAST's XP Music Futures conference nurture and energize the surge of upcoming Arab talent by uniting artists and industry professionals within the Middle East.
This article explores these stars on the come-up, who are redefining Arabic music by blending traditional elements with innovation and global inspiration. These innovators are fearlessly breaking boundaries and paving the way for a reconceptualization of classic Arabic beats and Arabic rhythms, while still making sure that representation doesn't overshadow their unique styles. We've picked five artists to highlight, pushing the envelope and reflecting the ever-evolving cultural landscape of the MENA region music scene.
Nadah El Shazly
Undoubtedly, one of the best Arab performers to watch out for right now, is Nadah El Shazly, an Egyptian producer and vocalist. Her distinctive sound and approach to fusing traditional Arabic overtones with contemporary experimental and electronic sounds have garnered her worldwide recognition.
Her successes are a powerful testament to her brilliance and originality. El Shazly's debut album, "Ahwar," released in 2017, was critically acclaimed and regarded as a ground-breaking piece of art. She has received recognition for her uniquely refined approach to music from prominent outlets like The Wire, NPR Music, and The Guardian.
El Shazly's hauntingly beautiful performance of "Bānit" (from her forthcoming album) on COLORS, further established her as a respected artist. Her concert performance of fan-favorite "Palmyra" also displayed her potent vocals and captivating stage presence, making an impression on audiences all around the world.
Kid Fourteen
Kid Fourteen is another Arab musician who should definitely be on your radar. The Lebanese artist ingeniously combines post-punk, new wave, and electronic sounds with insightful and gritty poetry. He came out the gate guns blazing with his debut album Dream Kids Never Sleep in 2016, and set the tone with his visuals for "It's a Lovely Night," which showcased his evocative storytelling, aural exploration, and signature composed chaos.
His highly personal songs explore themes of alienation, existentialism, and personal hardships, with eerie vocals and unusual instrumentation. Kid Fourteen's known for his strong live performances and emotive delivery, and has performed at foreign as well as Lebanese festivals. 
Respected publications such as The Quietus and SceneNoise have commended the artist's distinctive atmospheric soundscapes and ability to create a deeply resonant ambience with his music. Fresh off the release of his latest album, A Brief Emotional Dragon, the artist proved that he's sticking to his voice while continuously refining his approach. 
Thoom
Egyptian experimental musician, producer, and vocalist Leila Hassan, also known as Thoom, is another star in the making. The Brooklyn-based artist is known for her innovative sound and delightfully avant-garde performances.
Thoom mixes experimental electronic, industrial, and Middle Eastern sounds. Her ethereal soundscape includes strong beats, distorted vocals, and eerie melodies. With lyrics that address identity, power, and self-reflection, her visceral music challenges social standards and artistic bounds.
Hassan is also known for her theatrical and intense performances, and distinct personal style. Paired with her strong vocals and enigmatic energy, she's cemented herself as a multi-faceted artist, gaining recognition from acclaimed publications like The Fader, Resident Advisor, Pitchfork, and PAPER Magazine. 
Thoom's EPs have garnered her critical acclaim, solidifying her position in experimental music.
Cosmicat
Saudi Arabian DJ and producer Cosmicat (real name Nouf Sufyani) is loved for her colourful melodic house and techno-inspired tunes. The MDLBEAST Records signed artist released her first solo song, "Toxic Romance," which substantiated her as a strong producer and one of the region's most sought-after DJs.
Cosmicat has performed on acclaimed stages such as Exit Festival, Soundstorm, Tomorrowland, and Boiler Room. With her infectious energy and seamless ability to create electronic and contemporary Arabic mixes, the trailblazing musician has demonstrated herself as one of the region's strongest entertainers.
Abadir
Abadir, a crucial artist from the region hailing from Cairo, expertly creates a bold display of hybrid dance music. His distinct aural style fuses together Arabic-inflected jungle rhythms, dancehall, and otherworldly ambient soundscapes. 
With each release, he's proved himself as a truly insightful and visionary creator, tackling themes that push boundaries of thought, while still providing trance-inducing rhythms. His post-club experimental album Pause / Stutter / Uh / Repeat envisioned a dystopian world without speech, exploring themes of language through an examination of our seemingly pointless speech fillers and hesitations.