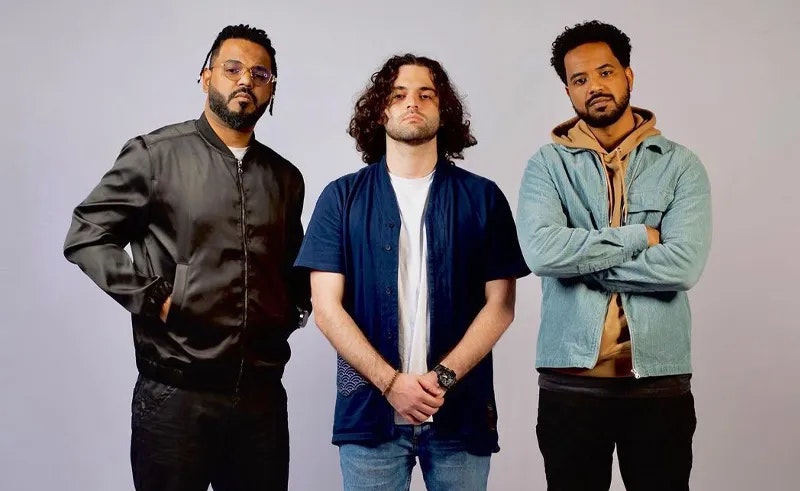 The ultimate list of music-related Podcasts in the MENA region
---
The ultimate list of music-related Podcasts in the MENA region
---
In a world saturated with music streaming platforms and radio stations, music podcasts in the MENA region have been emerging in recent years, becoming one of the best ways to form a deeper connection with the region's rich musical landscape.
Whether you're interested in traditional melodies, contemporary beats, cultural insights or the stories behind your most-played songs, we've compiled the best podcasts in the region offering a window into the artists, genres and creative processes that shape the dynamic music scene of the MENA region.
THE DUKKAN SHOW
Self-described as "the voice of Neo-Bedouins and the home of the others," the show is named after the Arabic word for 'shop'. For Omar Tom, the founder of the show, the name also touches on the podcast's role as the "birthplace of media and the community."
Dukkan has grown to be a multimedia storytelling platform that explores several themes within the context of nationality and identity. Hosted by the UAE-based Omar Tom, Reem Hameed and Mohamed Akkaoui, the trio share their own anecdotes from day-to-day life and invite several notable guests to offer cutting insights on everything from Arab pop history to mental health and influencer marketing, including the likes of Egyptian artist Felukah, Sudanese-American rapper Oddisee and Sudanese hip-hop producer Sufyan.
https://open.spotify.com/embed/episode/4tINMObL6B0QddoMVz0mVW?utm_source=generator
DOM TAK
Dom Tak, named after an expression for traditional Arabic rhythm, is an all-Arabic music podcast by Sowt, one of the leading independent podcast production companies in the MENA region.
The podcast takes a storytelling approach, tackling every genre of music practiced in the region, discussing the history and origin of traditional Arab sounds, and showcasing the lives of well-known and up-and-coming Arab artists alike. Guests include El-Far3i, Dareen and Egyptian producer Molotov.
https://open.spotify.com/embed/episode/55UNZgBxRBy6orPEHWgQpz?utm_source=generator
PASS THE KABSA
Pass the Kabsa is a Saudi-based upbeat podcast hosted by three friends, Mohammed Al-Shamsi, Adel Al-Ghamdi, and Terki Shalhoub, who delve deep into Saudi Arabia's hip-hop scene. Released weekly, Pass the Kabsa has cemented itself as one of the most prominent podcasts in the region with over 200 episodes. Some topics discussed include the soundscapes of Zanzibar, the evolution of hip-hop, AI in music and different new releases from the likes of Ntitled, Khayyat, Moayyad and Aziz.wav.
https://open.spotify.com/embed/episode/55UNZgBxRBy6orPEHWgQpz?utm_source=generator
963 PODCAST
963 is a weekly Arabic podcast hosted by Dubai-LA based polymath Zan Nakari who sits down with different creatives and entrepreneurs from all disciplines and backgrounds to pick their brains in their respective fields. Guests include Lebanese DJ Nass, Zef, Al3s3s and Chyno with a Why?
BUCKLE UP WITH BIG HASS
Hosted by Saudi radio host pioneer Big Hass, Buckle Up is a Dubai-based podcast and YouTube series of interviews with regional musicians, creatives and entertainers. Big Hass takes guests in his car to cruise across the city while discussing various topics related to the regional music scene. The show's upbeat and fun energy coupled with insightful conversations offer audiences a light and informative experience, with guests like Shouly, Moayad and Illiam.
ELECTRONIC MUSIC LIFE WITH JAMES LOCKSMITH
Hosted by Dubai-based Australian DJ and producer James Locksmith, Electronic Music Life is one of the region's first podcasts dedicated to electronic music, delving into the ideologies, methodologies and mental well-being of artists from around the world. The host breaks down tools, methods, tactics, and resources to help you navigate the electronic music business with experts from the Middle East. Guests include Disco Arabesquo, DJ Plead and Moktar.
https://open.spotify.com/embed/episode/5nkJ0z167daAsUKmfVx82w?utm_source=generator
WALLAH MIAOW
Hosted by Jordanian Beatboxer Abood Aladham, Wallah Miaow takes on some of the region's up-and-coming musicians and change makers and talks us through the business of music in the Middle East. Guests include Syrian rapper and producer Jundi Majhool, Jordanian singer Yazan Sarayrah and Palestinian artist Maysa Daw.
THE MUSIC ELEVATOR
Brought to you by London-based concert organizer and cultural platform MARSM, The Music Elevator is an informative entertainment and musical podcast in English, featuring some of the finest independent artists and musicians from the Arabic-speaking world. Some of the podcast's guests include The Synaptic, El-Far3i, Emel Mathlouthi, Ghalia Benali and ToutArd.
https://www.mixcloud.com/widget/iframe/?hide_cover=1&light=1&feed=%2FMarsmUK%2Fmarsm-music-podcast-with-cheb%2F
THE FLAMINGOS PODCAST
With the intent of creating an entertainment outlet that would reflect their individual interests and passions in the scene, UAE culture enthusiasts YAD, Kanzi, and Awab founded The Flamingos Podcast in 2020, and have since had weekly riveting and hilarious conversations on all things culture and music. Guests include Soulja, Flippter and Freek.
SARDE AFTER DINNER
The word Sarde is an Arabic colloquialism for stream of consciousness, aka rambling. The Sarde After Dinner Podcast is a free space based in the heart of Beirut, Lebanon, where Médéa Azouri and Mouin Jaber discuss a wide range of topics with guests from all walks of life. Some of the guests include Lebanese-Greek countertenor Matteo El-Khodr, Hamed Sinno and Elie Habib, CTO and co-founder of Anghami.
ALNADI PODCAST
Hosted by Riyadh-based violinist, software engineer and avid researcher Fadil Al-Turki, AlNadi Podcast hosts rich interviews about music, culture, science, literature and art, taking an in-depth look into the theoretical and practical aspects of music with prominent musical intellectuals and doctors. This podcast is basically perfect for people who are into traditional music, oud and violins.
THE SAFE HOUSE TRAVEL DIARY
This new podcast explores the rise and impact of hip-hop across the MENA region. The host, American-Lebanese 'guerilla storyteller' Soha Yassine, travels across the Middle East, meeting artists in their 'safe houses' - the places where they live and create - to have honest conversations about their inner and outer worlds, and understand what their music says about where they're from and the experiences that shaped them.
https://open.spotify.com/embed/show/5q4WXWMt4YQggRXNLiU6kk?utm_source=generator
DAWSHA
Last but certainly not least is SceneNoise's Dawsha Podcast hosted by Jordanian artist Zaid Kreshan.
Over the past few years, the music scene in the MENA region has been undergoing an unprecedented boom, going from an industry that was centered around mainstream Arabic pop music, to an industry led by artists who went from making tracks in their bedrooms to becoming international superstars. Taking a casual and down-to-earth approach, SceneNoise started Dawsha to talk about this quaking cultural shift and get deeper insights from the artists and industry personalities shaping the region's soundscape. Guests till date have included rappers Abo El Anwar, Perrie and Malikah.