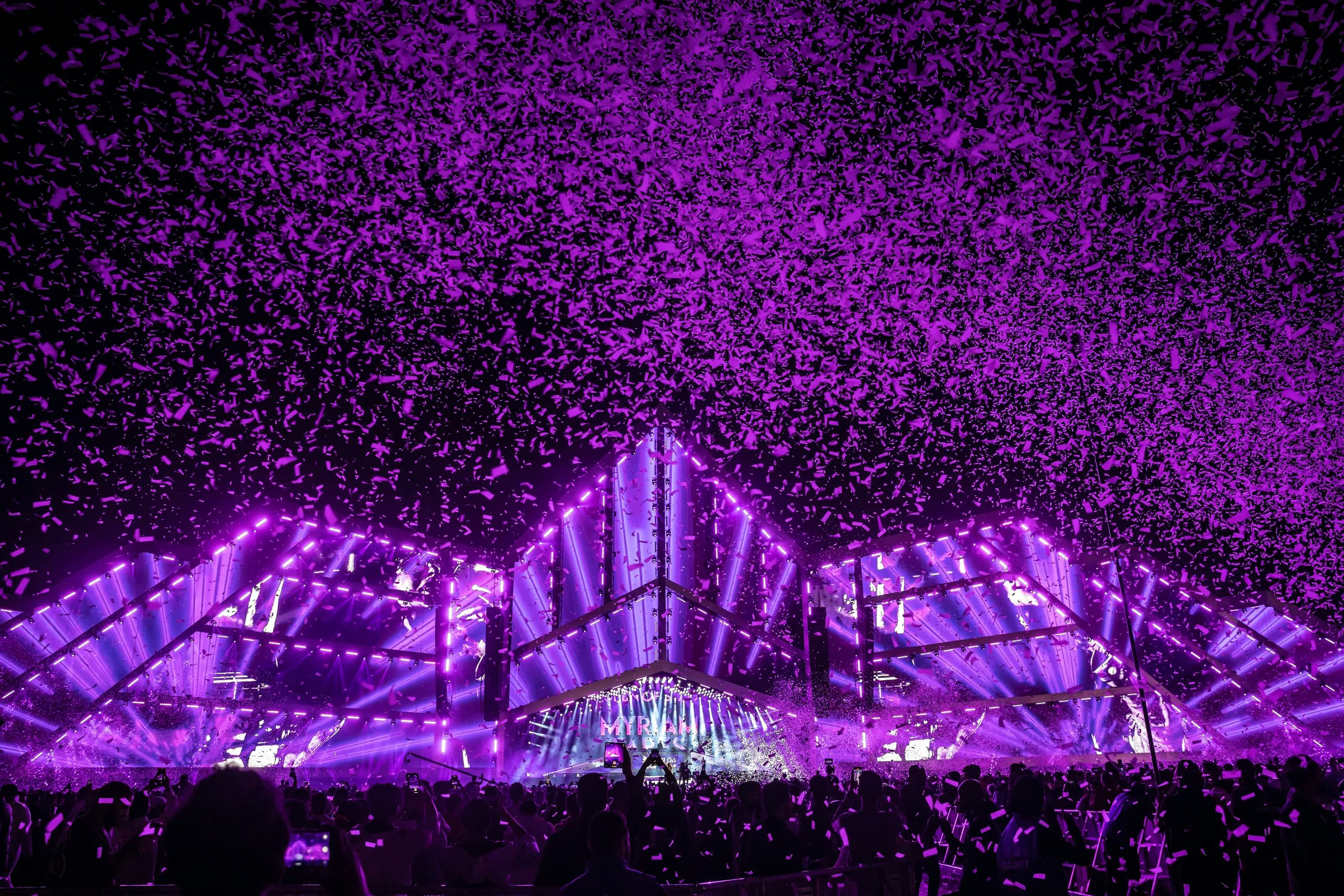 A Guide to the Types of Festivals
---
A Guide to the Types of Festivals
---
Festivals are a vibrant celebration of music, culture, and art that unite people from all walks of life with the shared intention of honoring their love for music and experiential entertainment. 
Just as different musical genres create sub-categories of music enthusiasts, different types of festivals cater to these various brackets and bring together members of specific fan bases to enjoy a well-curated ambiance.
Every music festival is a one-of-a-kind escapade, from the ear-drum-pounding bass lines at rock shows to the smooth saxophone solos at jazz concerts. From large-scale outdoor events to more intimate interior gatherings, we'll cover them all, and then some.
Rock Festivals: A Rave of Sound and Light
Rock festivals are electrifying events that celebrate the power and raw energy of rock and roll. Known for their rousing performances, rock festivals attract music enthusiasts who enjoy expressing their emotions (be they good or bad) with no bounds. Fans of this genre come together in such spaces to headbang and rave in a judgment-free zone.
Famous rock bands from all subgenres of rock—classic rock, alternative rock, punk rock, and heavy metal—are regulars on the festival circuit. Woodstock, one of the most acclaimed of these types of festivals, was staged in 1969 and became a symbol of the counterculture movement of the time. Festivals such as Coachella, Glastonbury, and Lollapalooza have maintained popularity by providing impressive lineups and exciting environments. Festivals dedicated to rock music serve as a platform for up-and-coming musicians to gain exposure, while simultaneously honoring the genre's legendary icons.
Jazz Festivals: An Exploration of Musical Improvisation
Festivals dedicated to jazz are sophisticated, lively and subtly uplifting events that honor the music's storied past and freewheeling spirit. Jazz purists, seasoned players, casual listeners, and interested newcomers are all welcome at these types of festivals. Jazz festivals embrace a relaxed and sophisticated ambiance, with fans enjoying the fusion of instruments and rhythmic complexities that define the genre.
The crowd at jazz festivals often expresses their admiration for the performers' artistic expression, virtuosity, and creativity. They enjoy the genre's signature amalgamation of instruments, complex harmonies, and entrancing beats.
The Montreux Jazz Festival in Switzerland is one of the most well-known, thanks to its scenic surroundings and eclectic lineup of jazz greats and rising prospects. Another legendary gathering is the New Orleans Jazz & Heritage Festival in the United States, which features various jazz, blues, gospel, and soul acts in honor of the city's rich musical history. Montreal's annual Jazz Fest must also be mentioned, for providing a stage for contemporary artists to showcase their talents before they become globally recognized. 
Pop Festivals: A Melodic Extravaganza of Chart-Toppers
Pop festivals are a celebration of chart-topping songs, number-one records, and performances by globally renowned musicians. These events feature well-known performers from a wide range of musical styles, catering to a broad audience with their catchy tunes and dance-inducing beats. 
Attendees of pop festivals typically have a once-in-a-lifetime experience thanks to the festivals' lavish stage designs, dazzling visual effects, and crowd-engaging performances. With a lineup of top artists and a focus on mainstream appeal, pop festivals like the Global Citizen Festival and the iHeartRadio Music Festival attract massive crowds and generate an atmosphere of pure musical euphoria.
Embracing Nature's Stage VS. Fully Immersive Indoor Experience
Outdoor festivals provide a unique opportunity for concertgoers to see their favorite bands and performers in a stunning natural setting that adds to the atmosphere of the performance. 
These festivals take place in sprawling fields, parks, and open-air venues, offering a sense of freedom and connection with the environment. The vast fields, parks, and open-air sites that host these celebrations foster a feeling of liberation and oneness with nature. Festivals held in the great outdoors feature a wide variety of musical acts, from rock and EDM to folk and world music. The Glastonbury Festival in the UK and the Bonnaroo Music & Arts Festival in the US are prime examples of legendary outdoor events that combine artistic expression with a love of nature. 
Meanwhile, indoor festivals provide a more intimate and immersive setting for music enthusiasts to experience their favorite artists up close. Held in arenas, concert halls, and specialized venues, these types of festivals provide a more concentrated and intense musical experience due to the controlled environment and excellent acoustics. 
These festivals often feature impressive stage designs, lighting effects, and sound systems that enhance the overall experience. Indoor music festivals are becoming increasingly popular, where parts of popular festivals like the SXSW Music Festival in Austin and the Eurosonic Noorderslag Festival in the Netherlands are a mix of indoors and outdoors.
MDLBEAST and Soundstorm Festival: Revolutionizing Music Experiences
The Soundstorm Festival is just one example of how MDLBEAST, an innovative entertainment company, strives to break the mold of the festival industry. Incorporating state-of-the-art audiovisual technologies, interactive installations, and world-class musical performances, Soundstorm is a truly immersive and multi-sensory event. Annually held in Saudi Arabia, the renowned festival features performances from a wide range of worldwide and regional musicians.
Soundstorm is a prime example of how festivals have changed over time; it promotes diversity and fosters an unforgettable experience for attendees by exploring novel avenues of music creation, sound engineering, and creative expression. Fusing art, entertainment, and technology, this trailblazing force is redefining what a good music festival can entail, forging new frontiers in the world of music and entertainment.