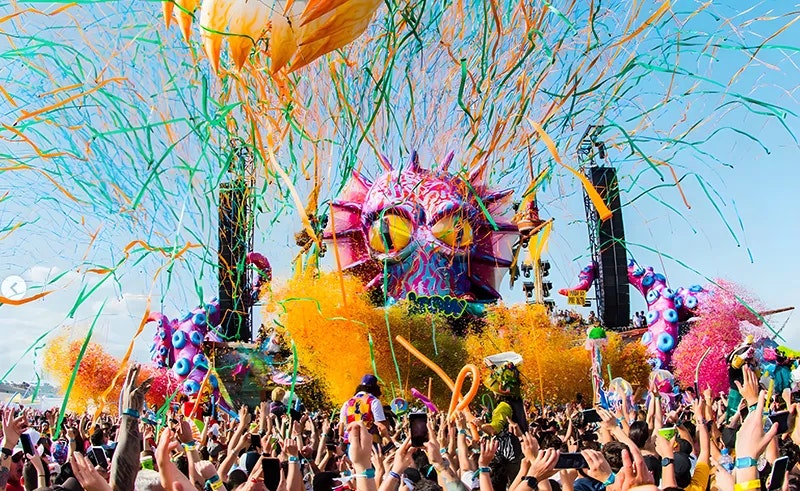 XP News: The International Music Festivals Migrating to MENA
---
XP News: The International Music Festivals Migrating to MENA
---
As festival season comes into full swing, party animals and electronic music devotees alike yearn for a Tomorrow Land-like getaway close to home – one where they can dance to some eclectic live music or perhaps form a sonic-based cult on a rave campsite. Fortunately, this fever dream is more real than ever with global music festivals shifting their gaze to the MENA region and hosting popup events all over it.
We've compiled a list of some of these international music festivals that have been firing up stages across the region, from Morocco to the UAE. 

Sunwaves Festival [ Mamaia, Romania ]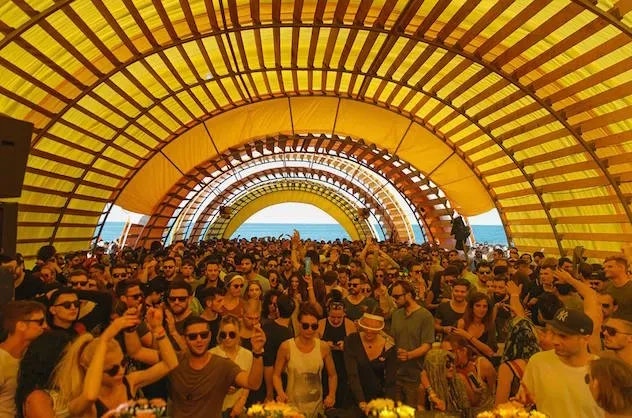 Sunwaves is the first Romanian biannual electronic music festival. Since its inception in 2007, the five-day festival has cultivated a global community with its unique wooden setups, DJ booths adorned with flowers, and immersive visuals that employ projection panels and 3D cut-outs to tell a different story for each stage. SUNWAVES is also widely known for its eclectic lineups that spotlight a slew of electronic sub-genres, while consciously stepping away from commercial music. 
Earlier in March 2023, the electronic music festival made its MENA debut at The Dunes Camp, set within the vast, stunning landscape of the Al Wadi desert, featuring a lineup of internationally renowned artists like Seth Troxler, Andrei Ciubuc, Billa and Dubfire.
Elrow [ Barcelona, Spain ]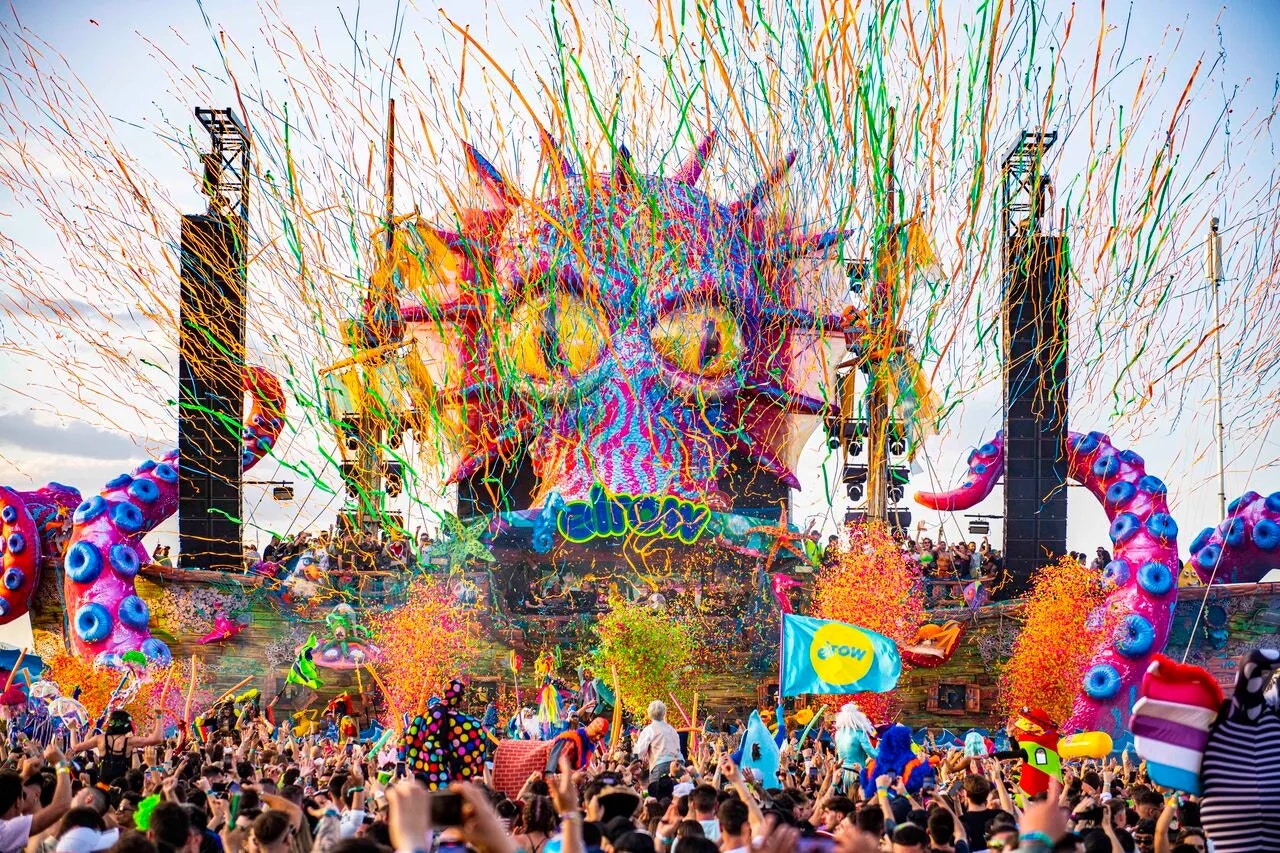 Elrow – one of Spain's most legendary nightclubs – has been hosting creative techno and house parties as an antidote to stale clubbing scenery since 2010. Think DJ booths in spaceships, stealthy mixes of electronic and dance music, bouncing balls, theatrical performances such as dancers on stilts, and tonnes of glitter and confetti. Elrow has travelled to over 50 cities across the world including Miami, London, Shanghai and Amsterdam, its events attended by more than 2.5 million people.
On February 17th, 2023, the internationally-acclaimed festival brought its psychedelic trip-like shows to Dubai. Titled  'elrow XXL Dubai', the event featured international DJs like Idris Elba, Alisha, Armand Van Helden, Florentia, R3wire and more.
Ultra [ Miami, USA]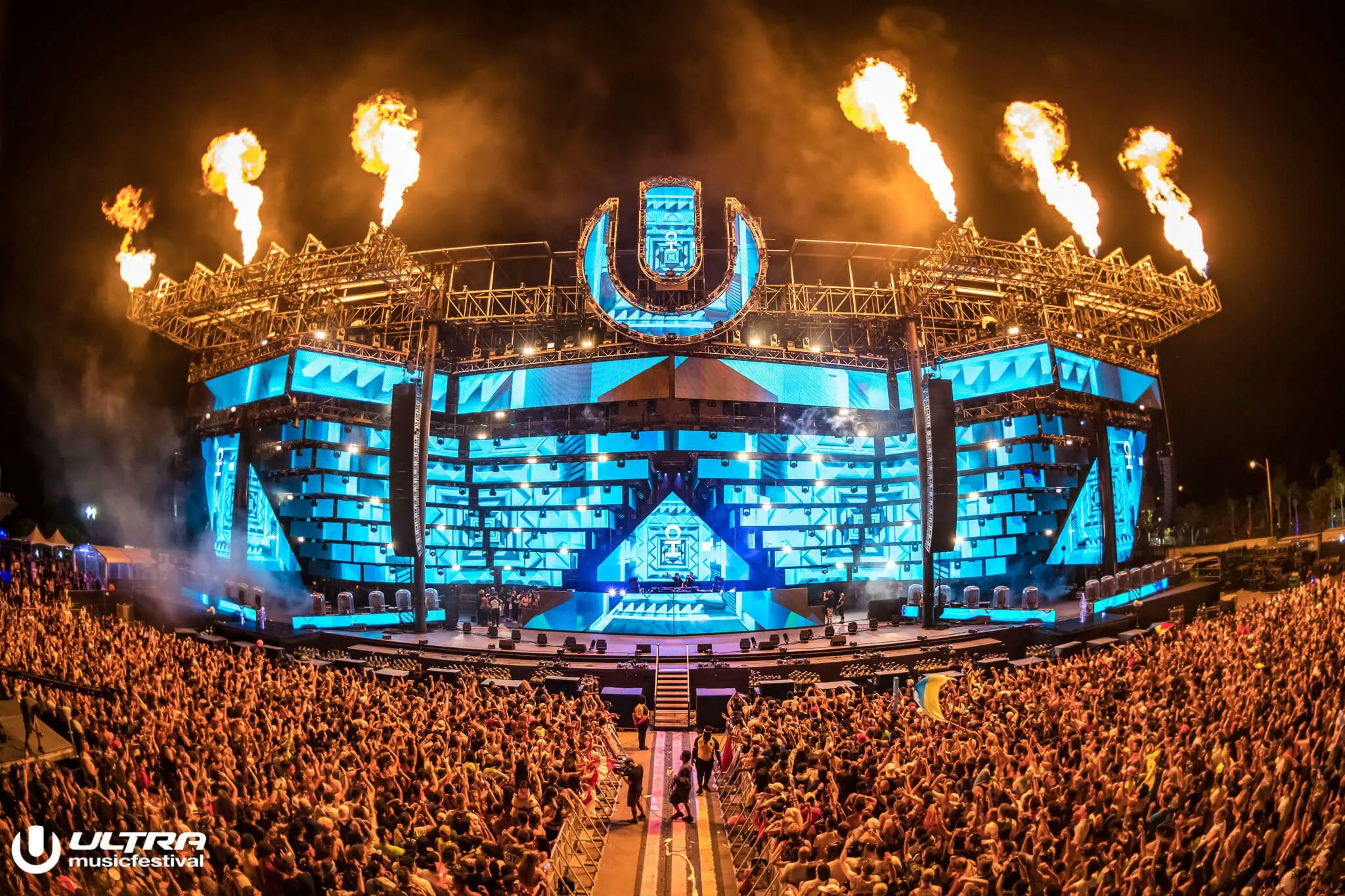 Founded by Russell Faibisch and Alex Omes in 1999, Ultra has since been creating a space for various niches and subgenres of electronic music. The festival hosts active events annually all over the six inhabited continents with a slew of elite DJs. 
On March 4th and 5th 2023, the global electronic music festival made its MENA region debut at Abu Dhabi's Yas Island open-air Etihad Park, with a hypnotising lineup that included Calvin Harris, Afrojack, and Sasha & John Digweed.
Untold [ Transylvania, Romania]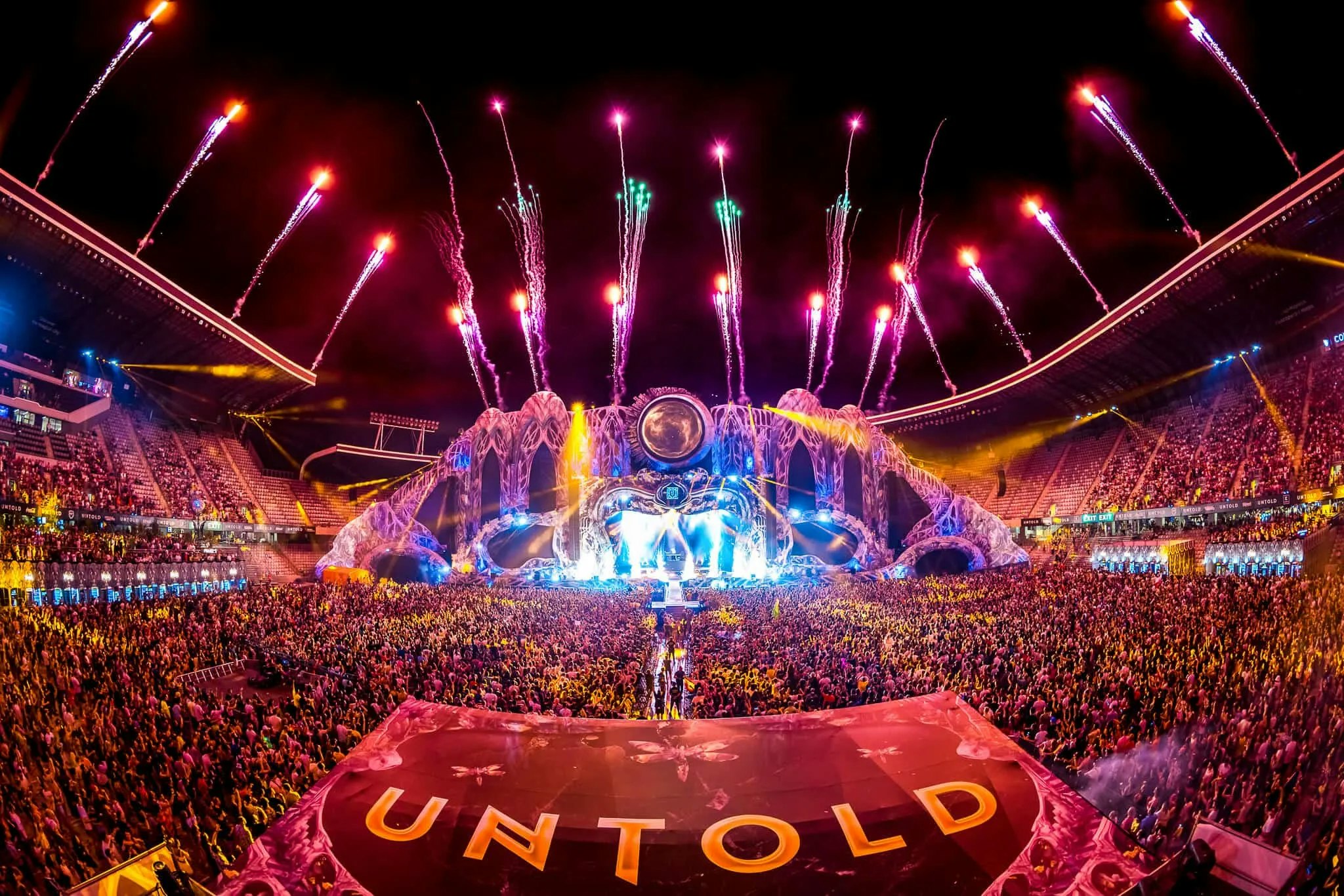 Held annually on the rooftops of Cluj-Napoca, the largest city in Transylvania, Romania, UNTOLD is one of Europe's biggest electronic music festivals,  providing a platform for up-and-coming artists on the dance music scene. The four-day renowned festival has seen many famous global artists take over its stage, including Major Lazer, Steve Aoki, Imagine Dragons, and the Black Eyed Peas, just to name a few. 
In February 2024, UNTOLD will land in UAE's Expo City Dubai with a firing set from Dutch DJ Armin van Buuren, who will perform at the top of Burj Khalifa for the festival's MENA debut. Meanwhile, the rest of the line-up for UNTOLD DUBAI is yet to be revealed. 
You can book your tickets by visiting untold.ae
Sonar [ Barcelona, Spain]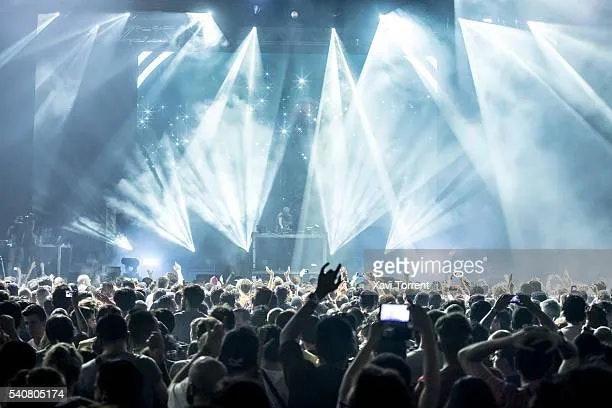 Sona is an intimate and compact version of Sonar Barcelona, an international festival that has been showcasing experimental takes on the newest trends in dance and electronic music since its inception in 1994.
Dedicated to combining music, technology and creativity, the international festival is now heading to Turkey's Istanbul on April 26th 2024 for its 8th edition. The event features a diverse stellar lineup of global artists like ANNA, TSHA, Max Cooper and Kas:st, along with Turkey's own Carlita. 
Tickets will be available soon.
Rewind Festival [ London, UK]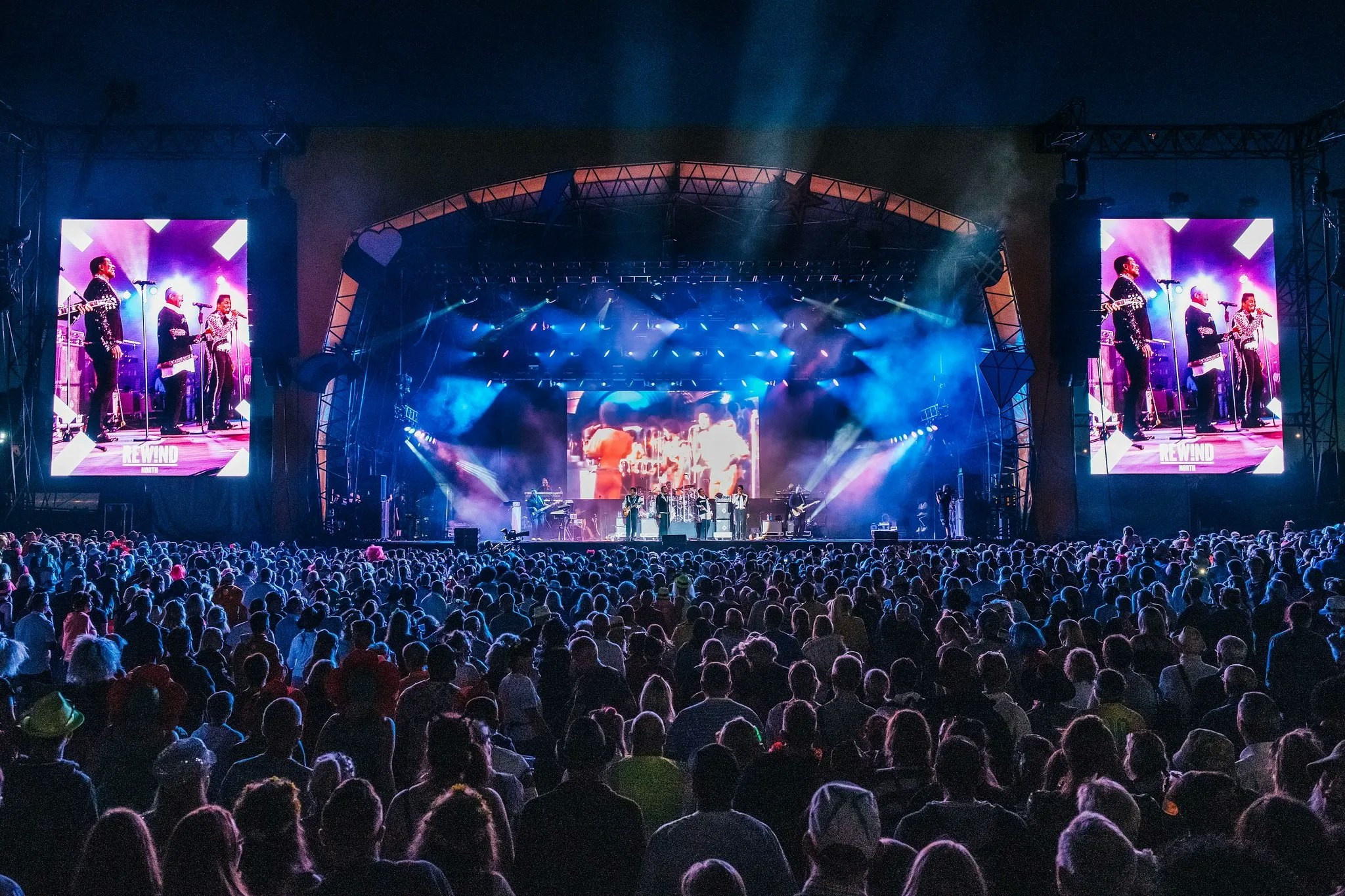 All the way from the UK, the world's biggest 80s and 90s festival REWIND has been quenching music lovers' thirst for all things classics and nostalgia, with its events featuring international artists from the golden age of music. 
For its 2024 edition, REWIND will head to Ain-Dubai's beachside at Bla Bla from March 1st to March 2nd, boasting a jam-packed lineup of British 80s pop and soul musical legends including Bananarama, Heather Small, ABC, Midge Ure, The Real Thing and Chesney Hawkes among others to be announced soon. 
You can secure your spot and buy tickets at rewindfestdxb.com
Palm Tree Festival [ The Hamptons, USA] 
Palm Tree Music Festival was first established in 2016 by Norwegian DJ Kygo and Myles Shear (AKA the Palm Tree Crew) and became widely famous for their tropics-inspired intimate getaways that capture the summer feels. 
From October 26th to October 29th, 2023, Palm Tree Festival is making its MENA debut in Egypt with 'The Getaway', a three-day sonic escapade at the foot of the Great Pyramids of Giza. The festival will kick off with a welcome dinner for 500 VIP guests featuring a Q&A with the co-founders and an intimate acoustic piano set from Kygo himself. Attendees will then get a tour of Al Fayoum Oasis, along with a sunset DJ set in the dunes, before signing off with an after-party at the Ritz-Carlton Rooftop starring Frank Walker. Set to fire up the deck with their eclectic tunes is a stellar lineup of international DJs including Tiesto, Kungs and Kygo. 
You can buy your tickets through their official website at palmtreemusicfestival.com
Deep House Bible [ Boston, USA]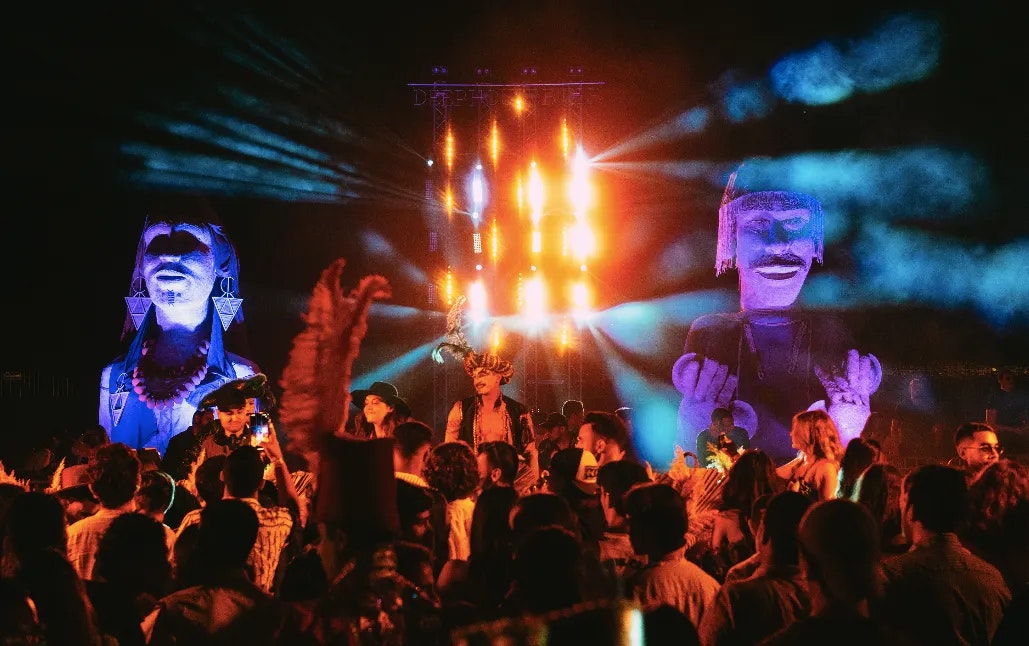 Since its inception in 2019, the community-driven platform has been uniting house music lovers through its series of niche events across the globe, with a focus on immersive experiences full of art, culture, dance and music. The global house music platform has been sprinkling its magic and shaking up the party scene in the MENA region with its popup events in Egypt and Morocco. 
In November 2022, as part of its annual sunrise gigs, Deep House Bible took over the Great Pyramids of Giza with Keinemusik's famous DJs &ME and Rampa, along with international talents like Carlita, Ahmed Spins, Misty and more. Meanwhile, as of May 2023, DHB also hosted a sunrise event against the riveting backdrop of the Agafty desert in Morocco for two days straight with an impeccable lineup of some of the leading local and global DJs, such as Mehdi, Laoulu and Diplo. 
Wireless [ London, UK]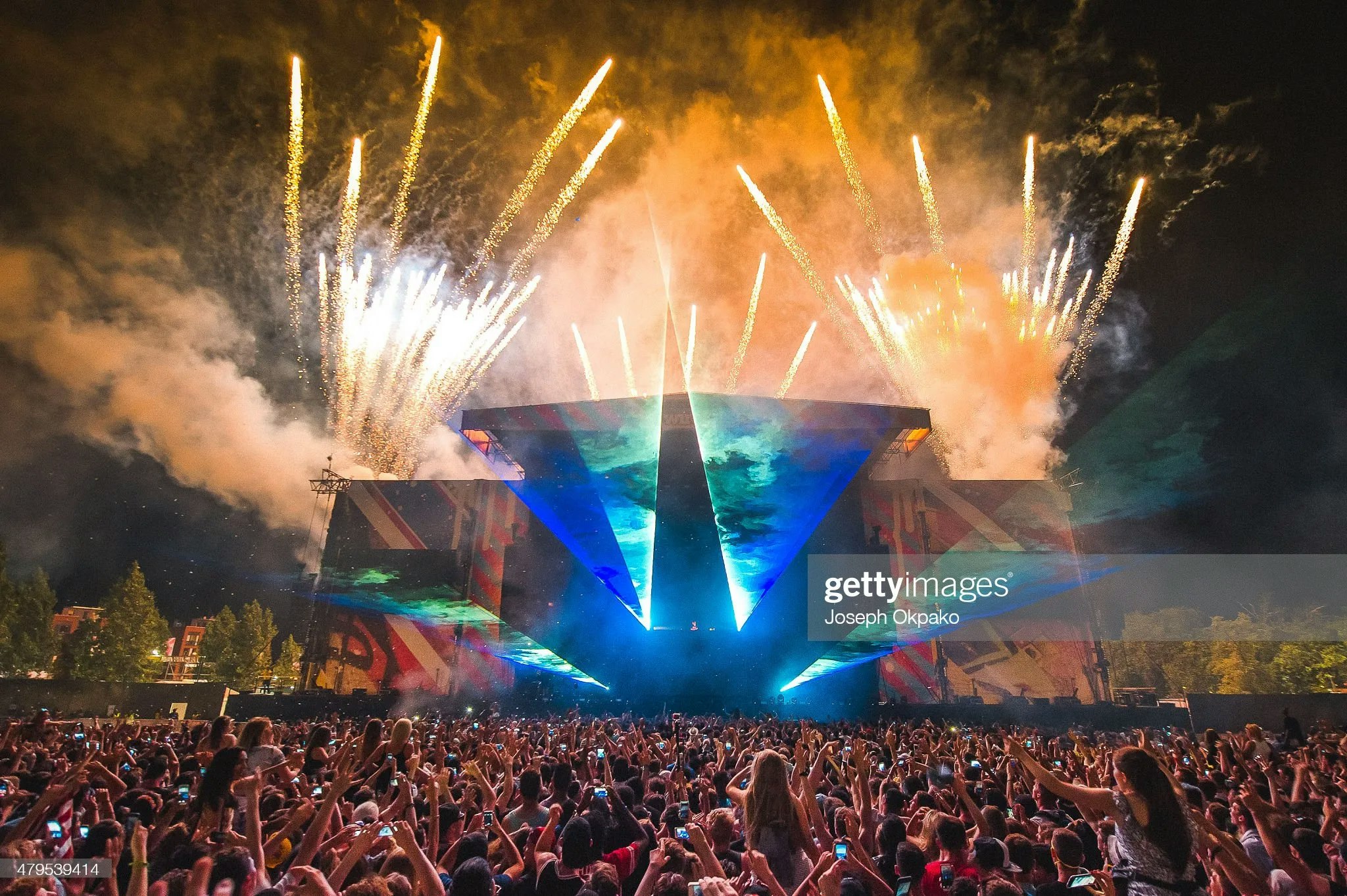 Organised by Live Nation, Wireless is one of the UK's most popular urban music festivals which primarily started off as a rock and pop-focused before turning to rap and hip-hop music in early 2010. Through its 17-year lifespan, the festival saw iconic artists perform on its stages, like The Strokes, Daft Punk, Stormzy, Jay-Z, Rihanna and Kanye West. 
On March 11th, 2023,  the renowned festival hosted a firing event at Etihad Pak on Yas Island in Abu Dhabi, which saw American rapper Travis Scott as a headliner and an impeccable lineup of regional and international artists, including British rapper M.IA., Raja Kumari, Lil Uzi Vert, Wegz, along with Dizzytooskinny, Dafencii, and Saudi rapper $kinny.
Defected [ London, UK]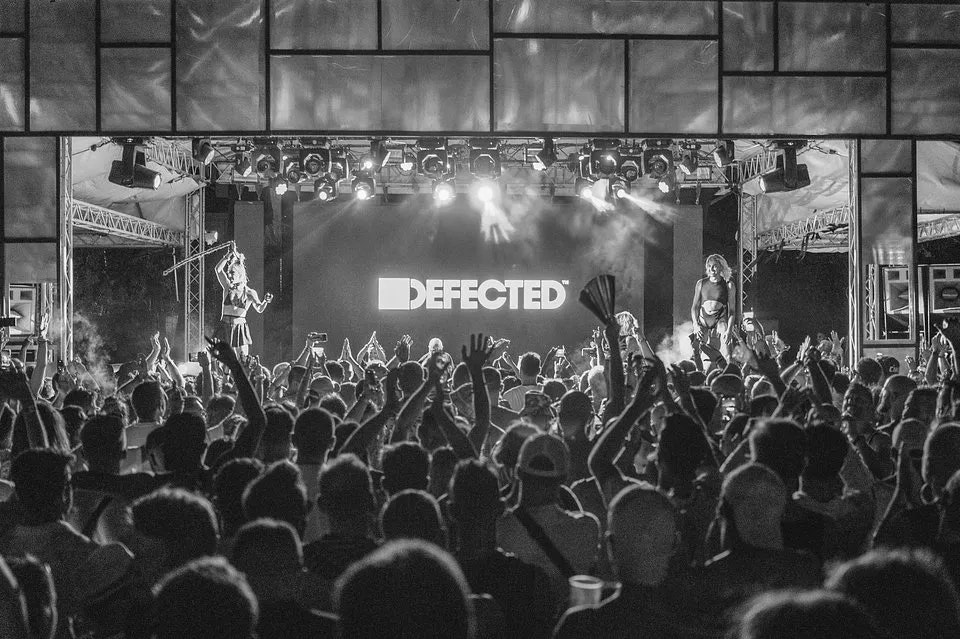 Since its founding in 1999, the renowned British independent label group has grown a reputation for hosting some of the biggest house music parties across the UK, Ibiza and Miami. 
In 2023, Defected is migrating to Dubai with a three-day music festival from October 13th to the 15th,  featuring the likes of Dunmore Brothers, Groove Armada, Hannah Wants, Roger Sanchez, Catz n Dogz, and Alex Mills. Defected Dubai will take over three different locations across the city for each day of the festival, kicking off the first day at a random warehouse (which has never been used, no worries), before moving to the seaside at Soul Beach and concluding with a groovy pool party on its last day - a mysterious location yet to be announced. 
For more information on how to book your tickets head to Defected Dubai's official website at defecteddubai.com