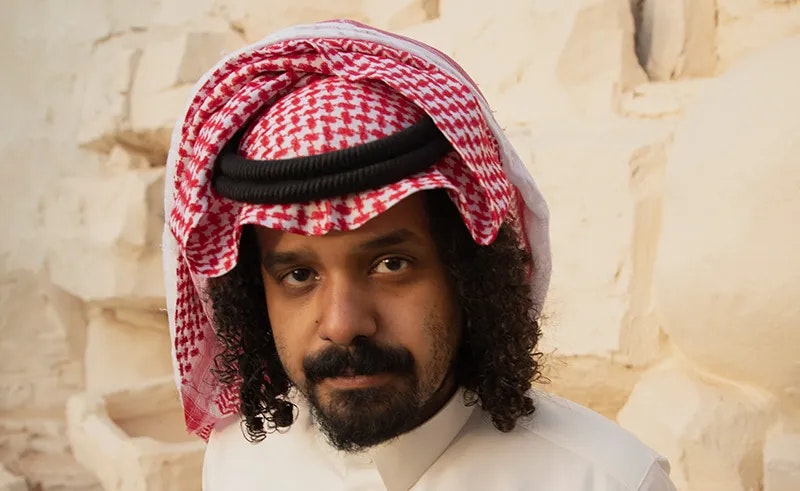 XP Artist Spotlight: Moayad - A Saudi Poet and Comedian Walks Into 16 Bars
---
بواسطة Scene Noise x XP News
يونيو 19 2023
XP Artist Spotlight: Moayad - A Saudi Poet and Comedian Walks Into 16 Bars
---
بواسطة Scene Noise x XP News
يونيو 19 2023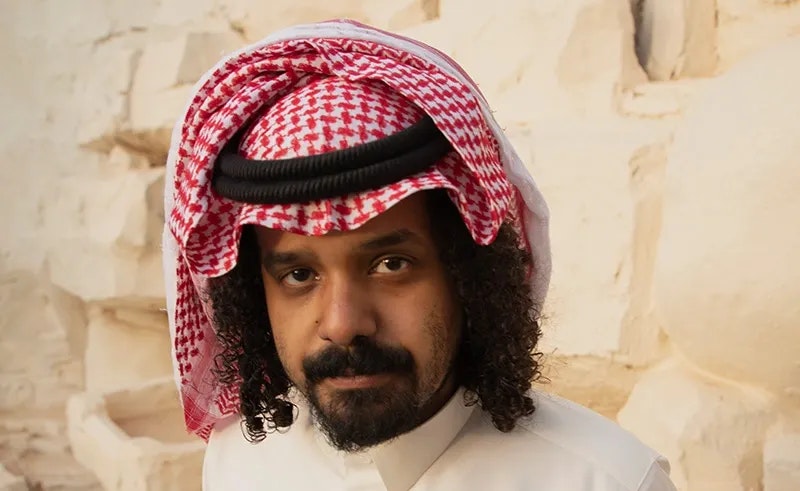 The ever-flourishing Saudi sonic industry has been witnessing unprecedented growth and artistic revolution over the past few years, and few entities have been accelerating that progress more than MDLBEAST Records. The Saudi label and creative house has been predominantly focused on electronic music, but as of September 2022, it dabbled outside the genre and made its initial foray into the hip-hop realm with homegrown Saudi rapper, Moayad Alnefaie.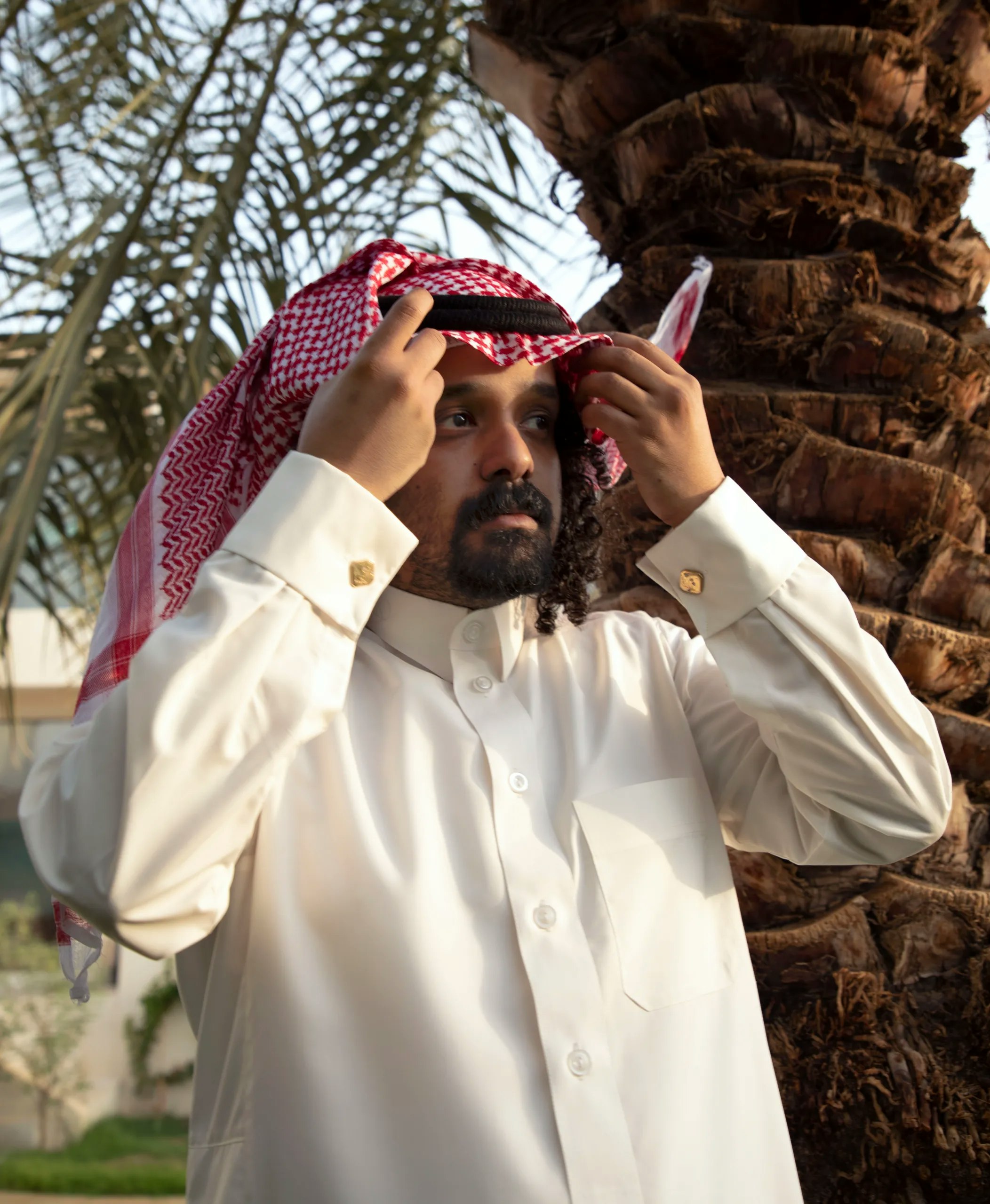 However, behind Moayad's now-thriving music career lies the story of the 35-year-old Saudi who studied medicine, became a comedian and then, eventually, getting deep into the rap game. Though Moayad Alnefaie hasn't always dreamed of becoming a rapper, he naturally gravitated towards entertaining people through comedy skits and music.
"I graduated three years ago from medicine, but I wanted to impact people's lives from a different perspective," Moayad tells SceneNoise. "I managed to do that through comedy. So, I consider myself a healer of some kind."
While you wouldn't know it from his career choices, the Saudi artist used to have a speech impediment as a child. Growing up, it was a source of deep-seated struggles and insecurities. "One time, I was doing a school announcement, and I couldn't read," Moayad shares. "So, I started crying, and had a really hard time getting over it." 
Finding solace in comedy and humour, Moayad was able to work on his inner self and overcome his stuttering. "When I first did a comedy skit in front of 200 people, and didn't stutter at all, that was it," he says. "I wanted to do more."
Born and raised in a place with such a rich cultural history, Moayad grew up reciting Arabic poetry with his grandfather, which introduced him to the beauty of Arabic vocabulary and its extensive wordplay. 
"One time I was sitting in a poetry recital with my grandfather and his Saudi tribe, and the poet forgot the words for the poem he was reciting and couldn't finish it somehow," Moayad recalls. "I knew the words, and I discreetly told my grandfather so. So, he made me recite it to the whole tribe. When I finished it, he gave me 1000 Riyals as a prize. I started going back every week after that!"
The first spark of passion for rap music, though, was ignited at the age of 13, when Moayad came across a mixtape of songs by famous rappers from Biggie and Snoop Dogg to Dr. Dre and Eminem. "Back in the day, when you would walk into a records store in Saudi Arabia, there weren't many hip-hop records accessible," he says. "But, in a small section at the back you would come across a Dr. Dre's The Chronic cassette tape and be like, 'whaaat!'' 
In 2011, Moayad made a bold decision to chase his dreams and set his sights on the entertainment world. With prolific Saudi production company, Telfaz11, as his partner in crime, Moayad dove headfirst into showbiz, starring in a number of comedy skits and videos that garnered millions of views and allowed him to build a huge global fan base. By 2019, Moayad's talent had landed him his very own comedy special, 'Comedians of the World: Middle East: Moayad Alnefaie', on streaming giant Netflix.
Being the ultimate multi-hyphenate he is, and having been fascinated by the musicality of Arabic poetry since he was 15, the Saudi comedian went on to explore rap music by collaborating with regional rappers like The Synaptik on a slew of successful tracks. "I believe in experiments," Moayad says. "When it comes to art, I just experiment. And I'm meeting amazing artists along the way, so I'm having fun."
The first time Moayad performed with his hip-hop persona live was during a sell-out 10,000 people show. "I joined my producer friend, Ntitled, as a surprise guest. I was shocked by how much easier it was to hype up the crowd compared to when I'm doing a comedy set," Moayad recalls. "There's definitely different tactics involved to control the crowd when you're singing hip-hop, there's no comparison."
On May 25th 2023, Moayad dropped his debut studio album, 'Batn Al Sha'er'. After two years of work, the album was the result of a partnership between MDLBEAST Records and Badiya Studio, run by the Saudi creatives Mohamed Al Kindi (aka Chndy) and Abu Hamdan (aka Warchieff), putting Moayad's authentic and distinctive sound on full display. 
Over 13 tracks, Moayad's album invites listeners to immerse themselves in his Saudi Arabian heritage with a hot amalgamation of Arabic poetry and American rap, flexing his wordplay and wrapping it in velvety hip-hop beats and drum programming. Rap stars The Synaptik and Lege-Cy were also featured throughout, ultimately adding more ice spice to his debut album.
Moayad's authentic Saudi hip-hop sound appears vividly in his captivating track 'Hagegtak Makhfiya', which he collaborated on with Ntitled. Standout tracks like 'Ala El Hadi', 'Huboot Itrari', and 'Mashi El Hal' leave us with the thought that Moayad is carving out a name for himself as the king of a burgeoning Khaleeji rap scene.