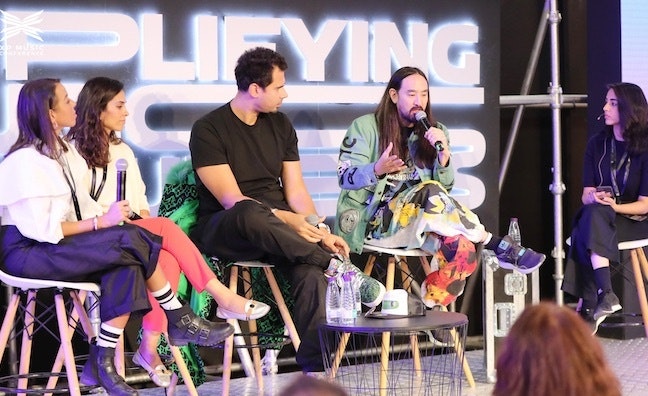 أول مؤتمر XP يربط المشهد الموسيقي في الشرق الأوسط بالعالم
---
أول مؤتمر XP يربط المشهد الموسيقي في الشرق الأوسط بالعالم
---
While technology helps to make the globe feel smaller, the inaugural edition of MDLBEAST's XP conference aimed to make the music world that little bit bigger.
Held in Riyadh, Saudi Arabia, in December, the first edition of this new event brought together 150 artists and industry representatives with a focus on galvanising the Middle East's music scene. 
Through a series of keynote speeches, panel discussions and workshops, the three-day conference got to grips with a series of central pillars identified by organisers as being key to promoting and nurturing the region's talent – both on and off stage. Talks also examined ways for the global music industry to make a sustained and meaningful connection with the area's young and growing market.
"It's all about education and more ways for people who love music to be able to create"Steve Aoki
"Through these conversations, we want it to inspire future generations to consider a career in the industry and promote music as a vehicle for job creation and innovation, making it a sustainable industry from which they can profit," explained XP programme director Nada Alhelabi of the goals behind the conference.
Examining policy needed to develop the Middle East's music scene, XP saw delegates share strategies designed to strengthen the region's creative ecosystem, while the establishment of the newly-constituted, Gulf-based music rights management organisation ESMAA was celebrated by MDLBEAST themselves sealing an agreement to ensure artists and composers will receive payment from events like their own flagship festival Soundstorm.
ESMAA's formation marks a major evolution in the region's creative infrastructure, replacing the void music creators and rights holders experienced previously when their music was played in venues or in facilities in the Gulf region.
Music distribution and rights were also on the agenda when XP's sessions took a look at the role digital technologies can play in helping the Middle East's music scene reach wider audiences, both home and abroad, while there was a special focus on the impact the region's growing music industry can have in areas like mental health, wellbeing and diversity. 
"A big focus for us is promoting diversity, wellbeing, and fair working conditions to empower females and give a voice to minority groups within the industry," explained XP's Alhelabi, who noted that the near 50:50 gender split of speakers at XP demonstrated their practical commitment to these issues.  
Similar concerns also informed the conference's special focus on talent, which sought to support both fledgling and established acts. 
"Through these conversations, we want it to inspire future generations to consider a career in the music industry"Nada Alhelabi
Along with the sharing of useful real-world experience and highlighting music's ability to impact job creation and innovation, XP's delegates enjoyed a detailed discussion led by Steve Aoki and Afrojack which focused on ways to create paths that will enable up-and-coming artists in the Middle East to have long and successful international careers.
"I think it's all about education and having access to more programmes and ways for youth and people who love music to be able to create," Aoki told the XP audience of the next steps needed.
"What I am seeing here in Riyadh, through XP, is that your emphasis on that is a priority. This is just the beginning, it's exciting."