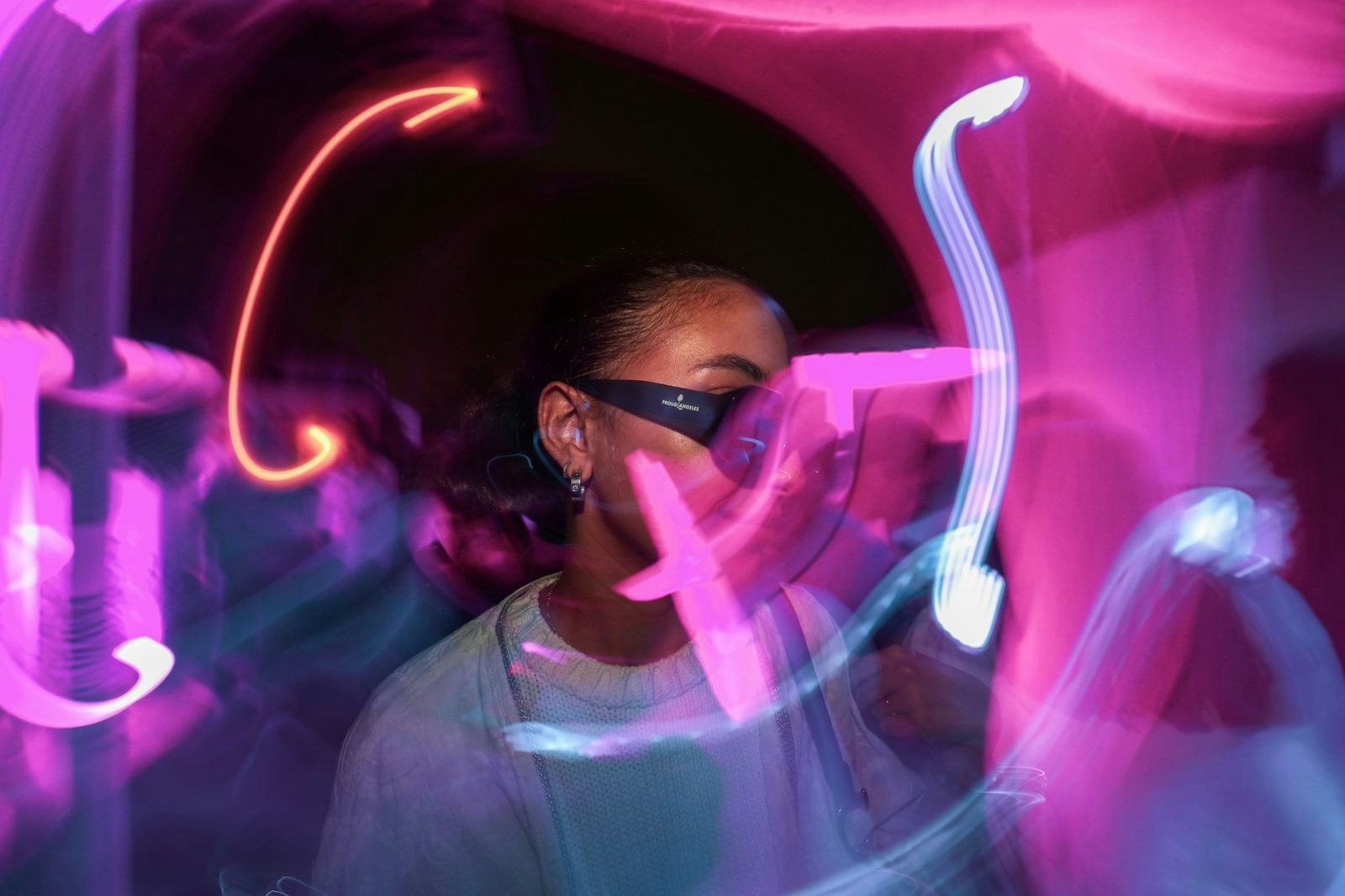 Proud Angeles: Scene Kid, to Business Man.
---
Proud Angeles: Scene Kid, to Business Man.
---
Situated comfortably in his desk, with equal parts street cred and business acumen, was MoE Bajbaa. In the past two years interviews about Proud Angeles - a Saudi lifestyle brand that touches upon streetwear, music and underground realness - have been a regular fixture in his schedule. 
The Saudi creative industry began its baby steps in the 2010s and has quickly developed into a full sprint. This wave of talent, creativity and ambition has broken thresholds and allowed for casual ingeniousness to toy with boundaries between fashion, music, art and community. The Rockstar release, the launch of Proud Angeles's first endeavor into eyewear, did just that. Foregoing the typical structure of a release - a creative campaign with editorials here and there - MoE and his team were keen on tapping into the underground electronic scene. 
For the Proud team, this wasn't an opportunistic jump onto a trend, but rather an homage to a community they feel a sense of belonging to. The Rockstar sunglasses' inception happened on the dancefloor. MoE is a regular at underground music events  and began to notice a sense of security and solitude when wearing shades on the dancefloor. So, it was a natural evolution to develop his own design of sunglasses. 
"I used to have these knock-off 20 dollar glasses I would wear when I would go to raves. People would always come up to me telling me they love my glasses, so I was like 'I have something there'. The amount of compliments… I loved it. So I made it.  Lately, I've been relearning how to deal with public spaces and energy. I just… Put on the glasses. Feel unbothered. Party like a rockstar. When I put the glasses on, I feel unbothered. It even blocks your peripherals from distraction. Just you and the music, no BS. That's why underground music. It all happened there" 
Following the popularity of pop-up raves happening across the Kingdom, the Proud team devised a launch plan that was embedded within the music ecosystem. It started off organically, with MoE gifting the glasses to one of Riyadh's local DJs – Majed – long before the release. From there, the shades took off, purely from word of mouth and underground street cred. 
"I had three samples. I gave Majed one… and the way people were reacting.. 'Where'd you get those? When is it dropping, when is dropping?' - so we built hype by the time of the release. It was organic, because I gave it to the right person and wore them in the right places. I don't really wear them anywhere else. I don't know, just worked."
It's easy to assume this was a strategic and cunning plan to tap into a market – but MoE simply doesn't see it that way. He attributes the success of Proud Angeles to always having a finger on the pulse of Saudi subcultures. The underground electronic scene is not the first - and surely not the last - niche local community that Proud Angeles has tapped into. MoE was able to forge these opportunities through genuine connections with these communities - finding a place for skaters, hoopers, artists and DJ's alike. 
The fashion drop before the Rock Star shades had an emphasis on the hidden pockets of Saudi's scene. This drop was done in partnership with local art legend, Rex Chouk - another scene heavy hitter. The  promo video of this drop was worked on by local talents - featuring basketball players, trend setters and local skating legends. This made the drop a project  MoE finds these scenes not in the name of self-promotion, but simply because he finds common interest and goals within these communities. 
"I like basketball, I like house music, hip hop, graffiti and skating - even though I don't skate. Doesn't matter if I'm part of the community - what we have is mutual ground. People know I'm the Proud Angeles guy and they're skaters…we find that mutual ground like 'hey when are we gonna do stuff together' and not 'hey when are you gonna wear my stuff?' I want to actually engage with different scenes with the right way and right tone. You can't feel entitled to the community. Pay respect to people.  You have to engage with the community to know how to treat the community. You don't  tap in by walking in as an entrepreneur. The entrepreneur will come in when the opportunity is there. Approach them as a person. I didn't walk into the house scene as an entrepreneur."
The Rockstar Glasses release happened over two weeks – with a party both in Jeddah and Riyadh. Interestingly, the glasses weren't the focal point of the party, but the music was.  MoE came to find that most people who were keen on attending the launch, marketed as a fashion event, came for simply the music and energy. 
This venture into the event world quickly became a learning experience for MoE and the team - recognizing that folks are willing to invest in experiences.  The Rockstar launch was a risky move. Unlike their apparel, there was no precedent as to how Proud Angeles accessories would sell. 
"We had the stock in February, we could've launched then. I was telling Momo [MoE's right hand man] 'I don't just wanna do a pop-up and just have people show up. They're gonna come, dance, and ignore the sunglasses. It's not like clothes that I know will sell. I'm taking a financial risk by having parties in Jeddah and Riyadh for the glasses.'"
MoE convinced his team to sell tickets.  The tickets were sold as two tiers - one for admission alone and the other included entry with a pair of Rockstar glasses. They noticed most of the revenue - 80% to be specific - was generated from attendance tickets alone rather than glasses bundle. On the other side of the same coin, the attendees that generally come for the party became familiarized with Proud Angeles and their apparel. It's hard to measure a return on investment if your main goal is cultural capital. The events were jam packed, leading to both excitement and anxiety. 
"It wasn't rocket science - we saw how others were doing it. In Riyadh we were very cautious of finding a licensed venue. In Jeddah - until this moment, I keep thinking 'bruh the risk was so high.' " 

Proud Angeles is set to find itself in the intersection of scene, authenticity and entrepreneurship more frequently in the future. Pivoting towards experiences and lifestyle events that connect the dots between communities. For MoE - it's more than just clothes. It's a lifestyle.